Kennels
More than a home away from home, 4 Paws is the perfect place to leave you pet with complete peace of mind whilst you are away.
---
Our kennels are situated on a 12 acre country property at the top of the beautiful Mornington Peninsula. The kennels have been designed so that all of our dogs are involved in the everyday comings and goings of customers and staff, keeping them happy and interested all day long.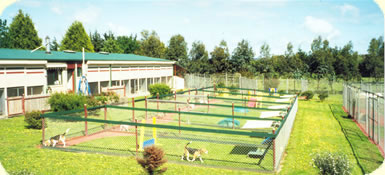 Building the new complex in October 1997, a lot of ideas to maximize your dogs health, happiness and well-being were the driving goals during the design process. The result was a solid brick building, with inside and outside areas. All accommodation is protected from the elements with individual insulated roller shutter blinds.
The kennels are completely heated during the winter months and fully air-conditioned throughout the summer. Piped music is filtered through the complex, with a chat-show being softly played during the evening.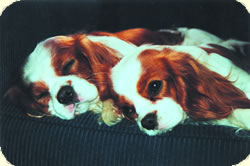 Our double-accommodation suites are purposely designed so that best friends never need to separated. Alternatively single accommodation is available for those who prefer to be on their own.
Inside the complex, your dog enjoys the leisure of their own futon bed in their own bedroom and a lounge in their undercover area.
The outside gardens are all monitored on close-circuit television and veterinary assistance is available 24 hours a day.
---